Blog
Action plan to build a successful social media presence for your brand
Building a successful social media presence is one of the main goals our clients come to us with as we are one of the leading digital marketing companies in Egypt.
And with 200 million social media users visiting at least one business profile every day and 130 million social media users engaging with shopping posts every month you can understand why SMEs and large-scale businesses are vying to create a strong social media presence.
In this article, I am dissecting the process of building your social media presence into 3 phases: the pre-publish phase, the publish phase, and the scaling phase. 
The pre-publish phase:
Here's where you prepare everything, from your brand strategy on social media to choosing your brand-suitable platforms, to preparing your brand visuals, bio, editorial calendar, voice, strategy, and goals for each platform, competitive analysis, keyword and hashtag research, influencers research, and the list most definitely goes on. 
The publish phase: 
Here's where you publish your accounts on social media, link them with each other, and link back to them on your other platforms like website and emails. 
The published phase is where all the content you prepared and the on-trend content gets to see the light, and also you get to find out if it's a flop or if it's impactful and creating a buzz. This phase is a bit of a trial and error phase, where you focus more on building a community through your presence and creating content for that community to keep it growing. 
The scaling phase:
Here's where you know how to play the game, and you now have more freedom to set the trends and use your community to make movements on social media, where your brand can stand for more than just a business but a leader as well.
Let's go in-depth about each phase and how you can optimize it and tweak it for your business type.
The pre-publish phase: 
1- Know yourself: 
You can't possibly communicate with an audience without knowing who you are and what you do. It's theoretically simple, but most brands fall when they don't know how to present themselves, how to talk about the brand, so before doing anything, know your business, its strengths, its services/products, achievements, goals, values, voice, and visuals, etc. 
2- Know your audience: 
Now that you know who you are, you need to know who your target customers are, for this, you need to prepare your customer persona/s; from the personas, you'll be able to find out not only the age, gender, profession, salary, and marital status of your target customers but, you should also know which social media platforms they use and for which purpose they use it for.
With this information at hand, you'll be able to go to the next step. 
3- Know your competition: 
By doing a thorough competitive analysis, you'll be able to understand your competitors and targeted customers more, as you'll be able to see the platforms they are active on, the types of content they produce, and how the target customers react to that content. You'll be able to see clear patterns or lack thereof as well as gaps where your competitors aren't using potential opportunities which you, later on, can use with your content strategy to gain traction. Mainly, competitor analysis will give you a blueprint on how you can grow your brand on social media without stumbling across many hurdles as you'd have if you tried to do everything without learning from your competitors.
4- Choosing your social media platform/s: 
Let's debunk one thing from the get-go: you do not need to be active on every single social media platform! 
Take yourself for an example: you most definitely have a favourite platform to browse on and make purchases through; for me, it's Instagram. 
For your customers, it might be Facebook, Instagram, Twitter, TikTok, etc. Knowing your brand orientation, whether it's more visually appealing than text-heavy or vice-versa, and knowing which platform your audience is usually active on should give you about 2-3 social media platforms that you should focus on. 
Here's a breakdown of social media channel usage according to research from Global Web Index in their social media trends 2021 report.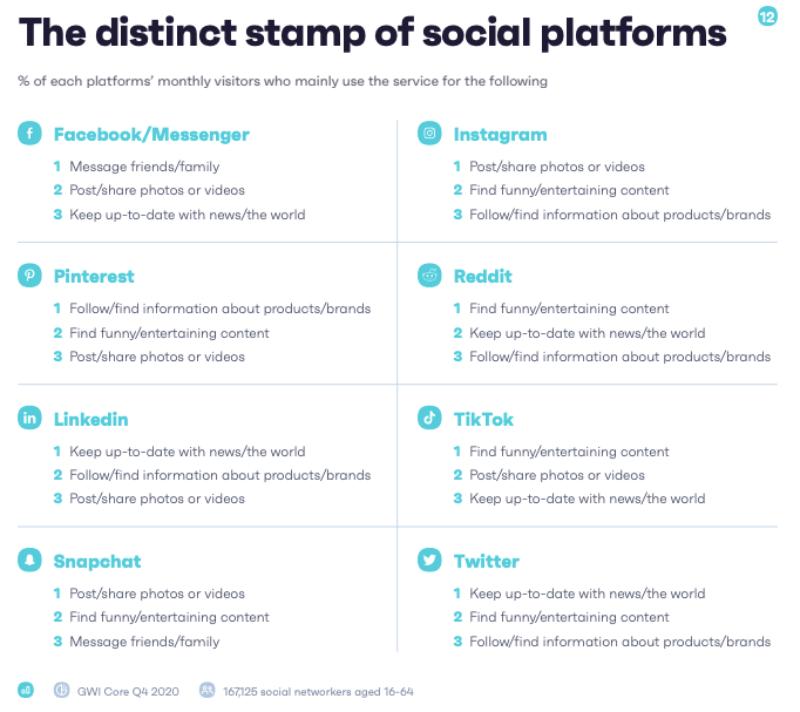 5- Setting a social media brand strategy: 
There are goals, there are plans, and there are strategies. 
The first step is setting SMART (specific- measurable-achievable-relevant-time bound) goals. 
After setting your goals for each platform, you can start making a plan to achieve this goal; it could include your posting schedule, the type of content you are posting, collaborations, campaigns, etc.  
The strategy is how you go about everything you do as a brand. 
Once you have all of this done, you can move on to the next phase.
The publishing phase:
You have everything ready to publish your accounts on social media!
You set up your accounts using the same visuals across platforms and similar bios, which include a few keywords that you want your brand to pop up when searched for, you also cross-link your platforms, so on your pages, you could link to your website and on your website and email interface you could link your socials. 
Now for the content:
1- Setting up your editorial calendar:
Editorial calendars are as tedious as they sound, but they are worth it!
Imagine having your entire month's worth of content already planned, and you can view it at a glance. 
Here are a couple of pointers to consider when it comes to your content: 
Create content that introduces the brand properly.

Create educational content, which provides value, is fun, engaging, and most importantly shareable. 

Curate content that you know your audience will appreciate.

Incorporate user-generated content in your plan to make your audience feel like they are a part of your community.

Infuse influencer collaborations in your content, influencer marketing is growing exponentially, and not capitalizing on it is a loss to your brand. 

Use branded hashtags, community hashtags, and trending relevant hashtags to gain more visibility on social media.

Repurpose content on different social media platforms and recycle evergreen content.

Know when it is the ideal time to post on each platform.

Set aside time to respond to your audience's questions and comments.

Leave a few spots in your calendar for on-trend posts that you could utilize to become a relevant brand. 

Consistency is key in everything you do, and it doesn't mean posting 3 times a day on every social media platform. Consistency means posting valuable and shareable content consistently for long periods; this is how you remain in the minds of your audience without burning your candle too fast.

I saved the best for last, be authentically human through your content, give your brand a human voice, use humour, use relevant vocabulary because the monotonous, boring, machine-like communication will get you nowhere and it might even set you back a couple of steps. Don't be afraid of giving your brand a vibrant personality. 
2- Checking the performance of your content through analytics:
Analytics is your best friend if you use them as markers on your brand's visibility and engagement levels. Use them to see areas where you can do better and capitalize on areas meeting your expectations and goals.
Inc. compiled a list of 60 of the best social media tools you can use to schedule your posts and see how they are doing across different platforms.
3- Trial and error approach: 
When you are first launching your brand social media presence, you need to manage your expectations; you probably won't gain much traction at first, but that means you have the chance to make errors and truly understand what works and what doesn't with your brand on each platform. You'll also be able to know your limits when it comes to being consistent, so instead of rejecting this, accept it and use it to grow so that when your audience grows, you would have already known how to make each platform work for you. 
4- Storytell, don't sell: 
Follow the 80%-20% rule when creating content; 80% of your content needs to be educational, valuable, entertaining, and on-trend. Only 20% of your content can be promotional, but even with promotions, you need to be creative, create campaigns that resonate with your audience this way, they'll be interested in purchasing your products. 
With this, the publishing phase is complete, and we can move on to the next phase. 
The scaling phase:
This phase is about sticking and capitalizing on what works for your brand while making moves and starting trends within the industry. 
Here, your audience is no longer an audience, but a community of people supporting a brand they love, and they stand by the values of your brand. 
Here, you can create campaigns that surround your brand values and mission. 
For example, a clothing brand called Scarabaeus Sacer. This brand champions sustainability in the fashion industry while advocating for mental health awareness. They started collaborating with creative directors to make short movies and campaigns revolving around mental health featuring their clothing items. Because of that, they reached further audiences like A-list celebrities. 
Any community is powerful, so this phase is perfect for you to use that power and reach higher horizons with your brand. 
Wrap-up
If there's one thing I encourage you to take away from this article is to start small and authentically on one social media platform. All you need to focus on is preparing well, and start small and build on that with consistency to grow and scale your brand later on. 
Here at Road 9 Media, we are the go-to digital marketing agency for hundreds of brands of all sizes in different niches all over Egypt and the MENA region. 
If you are launching a business or considering activating your business's digital presence, I encourage you to have a consultation meeting with one of our experts to discuss your business' digital potential, and how we can help you reach it fully.