Blog
The ULTIMATE guide on how to use each type of content on social media
Short videos, long videos, stories, pictures, and text are all types of content your business uses to raise awareness, nurture an audience, and finally convert them. 
In this article, we discuss the different types of content and the best platforms to publish that content on. 
Videos: 
Recently with the booming of TikTok and the limited attention span of audiences, it became more apparent that the way to go is through creating short-form video content. 
One study shows that "93.9% of social media users aged 16-64 watch video content."
However, there are two things to consider when making short-form videos; the content of the video and which audience it is intended for. 
Let's talk about the content: 
Brands either make on-trend videos to hop on the same wave as their followers and gain the attention of new followers. Or release educational and informative short videos, either on their products and services or interviews they made with influential people. 
Now let's talk about the audience: 
Knowing which social media platforms your audience is active on will give you a clue. 
Let's see the demographics of social media users per platform: 
According to a study conducted by Datareportal on Egypt
Facebook: 
Largest age group: 25-34 (28.6%)

Gender: female (47.5%), male (52.5%)

Total visitors: 285M
Youtube: 
Largest age group: 25-34 (34.8%)

Gender: female (41.4%), male (58.6%)

Total visitors: 222M                                                 
Instagram:
Twitter: 
LinkedIn:
Pinterest: 
TikTok:
According to these numbers, which platforms do you believe your audience is active on? 
With this information, you can move on to creating or publishing content that both suits your brand and your audience. 
For product-based content: we recommend using: Facebook lives, Instagram reels and stories, and TikTok. 
For company announcements and educational interviews: we recommend Facebook videos and LinkedIn. 
We've talked about the content, the audience, the platforms; let's take it one step further and talk about:
Facebook:
Your videos shouldn't exceed two minutes in length. Multiple studies (including this one from Wistia) have shown that engagement tends to fall off sharply after the two-minute mark for most videos.
Facebook runs videos on muted auto-play, and thus, your videos need to be optimized with captions so users can understand its content without the need to unmute the video. 
Twitter:
Twitter already has a 30-second limit so that you can use it as a trailer to the video itself or a product launch or an interview, etc. 
Instagram:
Data compiled by HubSpot suggests 30 seconds might be an ideal time frame, as Instagram videos that received the most comments averaged about 26 seconds in length.
The Quality: 
It's a no-brainer that your video quality must be high, but how high does it differ from one social media platform to the next? 
In an article by sprout social, they gathered all the video specs you need to know for each platform. 
Facebook:
Video: 
Recommended video dimensions 1280 x 720 for Landscape and Portrait.

Landscape and Portrait's minimum width is 1200 pixels (length depends on aspect ratio).

The landscape aspect ratio is 16:9.

The portrait aspect ratio is 9:16 (if the video includes a link, the aspect ratio is 16:9).

Mobile renders both video types to aspect ratio 2:3.

Max file size is 4GB.

Recommended video formats are .MP4 and .MOV.

Video length max is 240 minutes.

Video max frames 30fps.
360 Video:
The resolution and aspect ratio depends on the type of content 

Monoscopic: 5120 x 2560 maximum, aspect ratio 2:1

Stereoscopic: 5120 x 5120 maximum, aspect ratio 1:1

Recommended max file size is 10GB.

Recommended video formats are .MP4 and .MOV.

Video length maximum is 30 minutes.

Recommended frame rate is 30 fps.
Video stories:
Recommended resolution 1080×1080

The aspect ratios are 1.91 to 9:16, with colored gradient bars rendered above and below videos under 9:16. The text field will also be placed below videos smaller than this aspect ratio.

Max video file size is 4GB.

Duration is 1 second to 2 minutes.

Recommended video formats are .MP4 and .MOV.
Instagram:
The minimum resolution for all formats is 1080 x 1080

Allowed horizontal pixel resolution is 1920

Multiple aspect ratios are supported: The landscape aspect ratio is 16:9, the square aspect ratio is 1:1, the vertical aspect ratio is 4:5.

Max file size for all formats is 4GB.

Allowed video formats are .MP4 and .MOV.

The allowed frame rate is 23 to 60 FPS.

Video length is 3 to 60 seconds.
Video stories:
Recommended resolution is 1080×1080.

The aspect ratio is 9:16.

Max file size is 4GB.

Recommended video formats are .MP4 and .MOV.

Video length max is 2 minutes for ads and 15 seconds for organic. If you upload a longer video on organic, it will be clipped into multiple Stories' slides.'
Reels:
Recommended resolution is 1080×1080.

The aspect ratio is 9:16.

Videos can be either 15 or 30 seconds long.

Max file size is 4GB.

Recommended video formats are .MP4 and .MOV.

Reels will be displayed in the feed-in slightly cropped portrait dimensions (4:5 or 1080×1350).
TikTok: 
Recommended resolution: 1080×1920

Aspect ratio: 9:16 recommended filling a standard mobile phone screen (1:1 with letterboxing)

Length: 15 seconds recorded in-app, 60 seconds in-app (4 sections of 15 seconds), or over 60 seconds when uploaded from another source

Maximum file size: 287.6MB

Video formats: MP4 or MOV recommended
Youtube:
Recommended dimensions: 426 x 240 (240p), 640 x 360 (360p), 854 x 480 (480p), 1280 x 720 (720p), 1920 x 1080 (1080p), 2560 x 1440 (1440p) and 3840 x 2160 (2160p).

The aspect ratio is 16:9 (auto adds pillarboxing if 4:3).

Max file size is 128GB or 12 hours, whichever is less.

Accepted video formats include: .MOV, .MPEG4, MP4, .AVI, .WMV, .MPEGPS, .FLV, 3GPP, and WebM.

Video length max is 12 hours.
Shorts:
Recommended dimensions: 240×426 (240p), 360×640 (360p), 480×854 (480p), 720×1280 (720p), 1080×1920 (1080p), 1440×2560 (1440p), and 2160×3840 (2160p),

The aspect ratio is 9:16.

Video length is 60 seconds max.

Accepted video formats include: .MOV, .MPEG4, MP4, .AVI, .WMV, .MPEGPS, .FLV, 3GPP, and WebM.

Music from the YouTube music library is limited to 15 seconds.

Title character limit: 100 characters max.
LinkedIn:
The aspect ratio is 1:2.4 to 2.4:1.

Max file size is 5GB.

Accepted video formats are .ASF, .AVI, .FLV, .MOV, .MPEG-1, .MPEG-4, .MP4, .MKV, and .WebM.

Video length minimum is 3 seconds, and max is 10 minutes.

Video max frames 60fps.
Pinterest:
Standard video recommended aspect ratio: 1:1 (square) or 2:3, 4:5 or 9:16 (vertical)

Max width video required aspect ratio: 1:1 (square) or 16.9 (widescreen)

Max file size is 2GB.

Acceptable video formats are .MP4 and .MOV.

Video duration is 4 seconds to 15 minutes (for ads, the platform notes that 6-15 seconds are optimal).
Trial and error: 
With video content, you want to experiment and see what your audience is gravitating towards and engaging with, and then push to publish content in that format. 
Images: 
We've thoroughly discussed the video type of content, and now, we can move on to Image-based content; Its types, engagement rate per platform, and quality specs on each platform.  
Facebook:
Images:
Social Media Strategist Jeff Bullas reports that Facebook posts with photos receive an average 37% increase in engagement over text-only posts. And Buzzsumo found that posts with images receive 2.3 times more engagement than those without. 
Types of content you can post images in: 
Infographics

Product images 

Testimonials

User-generated content 

Comic content (make sure it's on brand)

News and announcements 

Milestones 

Promotions 

Educational photos with text overlay 
Stories 
According to an article by TechCrunch, "Stories now have 500 million daily users across Facebook and Messenger." 
Stories are versatile, and they are a great way to drive more engagement in a light and vibrant way; here are a few ways you can use stories to drive more engagement from your audience: 
Repost your posts to drive users to like, comment, and share

Announce new product launches or events 

Post polls and asking boxes to hear the voices of your audience 

Release daily teasers 

Post behind the scenes pictures  
Instagram:
Single Image Post
According to research, "Overall, an audience's average Instagram engagement rate is 1.22%. But the average rate varies significantly by industry.
For example, for fashion brands, a 0.68% rate is average. Still, a 3.57% rate is typical for higher education organizations. Tech and financial services averages are somewhere in the middle, at 1.31% and 1.42% respectively." 
Whether you check your engagement rate from a social media dashboard or the app analytics themselves, here are a few ways to increase your post engagement rate on Instagram: 
Enhance the picture quality:

Make your pictures on Instagram pop! Enrich them with on-brand colors and add text overlay when necessary.

Be authentic:

Following the trend is good but do it your way! Authenticity makes a brand memorable and sets it apart from others online. 

Post during the times you know your audience is active:

You could use your analytics tool to know this, and you can also try a trial and error approach and find out which posts did better and which time they were posted. 

Work on your caption:

Your caption also plays a massive role in your engagement rate; try to keep it short and effective, use humor when appropriate, and add CTA in the caption to drive action from your post, whether that's to comment or share or click the link in your bio. 
Carousel Post
Socialinsider shows that carousels achieve an average engagement rate of 1.92%, compared to 1.45% for standalone video posts and 1.74% for single images.
The good old 'swipe left' carousel post, ever since their launch in 2017, proved that they are here to make some noise; 'engagement noise.' 
Here are a few tips to fully use the potential of carousels: 
Use all ten pictures:

Research showed that the engagement rate for carousels drops after three pictures and picks back up after eight pictures, so use all ten pictures for maximum engagement. 

Add in 2 CTAs (call to action):

The first to swipe left; research proved that carousel posts with a swipe left CTA do better than those without it. The second CTA is in the last picture to guide your audience to visit your website, save or share this post, etc. 

Take your audience on a journey:

You have ten pictures to take your audience from top to bottom, so whether you are posting a tutorial, a step-by-step guide, before and after shots, repurposing information from a blog, BTS pictures, a photo dump, etc. Make sure to take your audience on a complete journey. 

Make the first picture a scroll-stopping one:

Instagram is a scrolling app, and if you want people to swipe left for you, you need to stop them in their tracks with an on-brand, relevant, catchy designed picture.  

Mix and match within the carousel:

Use both images and videos to make it versatile.
Stories 
According to research: "Image stories slightly outperform video stories in terms of reach." 
However, stories have less reach than feed posts. "By comparing the average reach rate of Instagram stories with posts in feed, we found out that most of the time, Instagram stories reach only half the people regular posts did within a brand's fanbase in 2021."
With this in mind, try to build an inclusive content calendar for Instagram so that you can have multiple engagement touch-points on your brand account. 
A few ideas for stories: 
Repost your posts to drive users to like, comment, and share.

Announce new product launches or events. 

Post polls and asking boxes to hear the voices of your audience. 

Release daily teasers. 

Post behind the scenes pictures.  
 Twitter:
Image posts
According to Twitter: "Photos average a 35% boost in Retweets."
Quicksprout found that "62% of the images were humor-based, while 38% were other types."
The same research recommends using quote-oriented pictures instead of questions as quotes do better!  
With Twitter, we have learned that the more original and relevant you are, the more engaged your followers will be. So give your analytics a look and give picture tweets a go! 
Pinterest
Images
Pinterest released a guide on pin creation best practices and how you can post engaging pins. And here are a few stats to guide you to produce the best pins:  
LinkedIn: 
In research done by Social Insider: By analyzing 39,465 LinkedIn business posts, they discovered the following Linkedin stats:
The average engagement rate per post on LinkedIn in 2021 is 0.35%.
You can get higher engagement values by using more images for small and large accounts, but for middle-sized accounts, videos perform better.
Half of the brands' posts on LinkedIn are images (49%), the other half are articles (38%).
For generating more likes, try either images or videos, according to your profile size indicator, as follows:
accounts under 5K: should use a mix between images and videos

accounts between 5K - 10K: should focus more on images

accounts between 10K - 50K: should use primarily videos (31%) and secondary images (23%)

accounts between 50K - 100K: should use primarily videos (51%) and secondary articles (23%)

accounts over 100K: should opt for more images (34%) and then videos (31%)
So that's the breakdown of it all. 
Let's hop on to the optimal picture quality and specs for each platform. 
The Quality:  
In a 2022 article by Hootsuite, they gathered all the image sizes you need to know in one cheat sheet.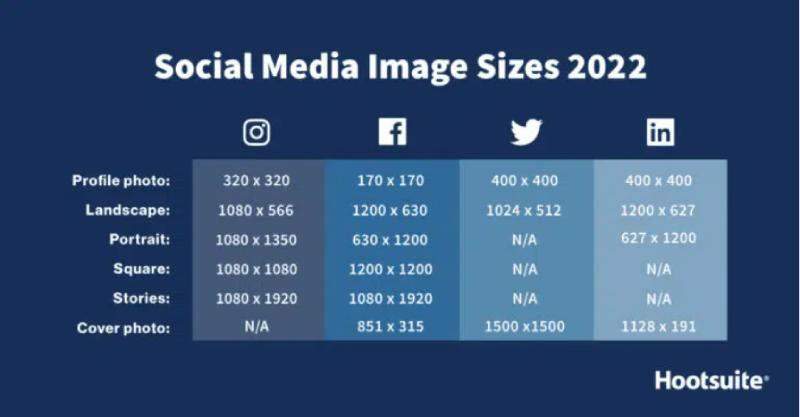 So far, we discussed video and image types of content, and now we will discuss the last type of content, text content! 
Text:
Besides, the apparent cliche of content is king and all, but your post captions matter! 
Your posts won't provide context or drive action or even express your brand voice without them. 
Whether you are writing to entertain, educate, promote a blog, or announce a new product/service. How you write about it makes all the difference. And whether that text is a caption or written on visual content like images and videos, again, it matters. 
Here are several points you need to consider when writing for social media. 
1- Know your brand: 
Knowing your brand, its voice, and persona will empower you to write in a way that reflects it effectively on social media. 
You can't express or talk about something you don't know! 
 Knowing your brand will also help you keep a consistent tone of voice when writing, giving your audience a cohesive and consistent brand image. 
One trick to help you with this is exploring the brand manual and writing several posts with different brand voices and approaches, then choose the one that truly represents your brand.
2- Know your audience: 
If you are a tech company helping businesses, you might want to look deeper into the business owners and managers, their problems, their interests. At the end of the day, they are the ones reading about your company; you want to write about subject matters that interest them and provide solutions for their existing problems. 
The more research you do on your target customers' persona, the more insights you have, the more resourceful you'll be when creating content specifically for them. 
3- Know your lingo
Knowing the industry terminology and simplifying it establishes your company as an authority; your target audience might not be aware of the language but will realize how well you know it when you explain its concepts in an easy-to-understand manner. 
4- Know your platform
Knowing the platform you will post on will help you decide the tone of voice you'll have and the approach. Facebook and Instagram can take a more chill vibe; Twitter depends on your persona; from hilarious to cause-driven, there's a wide range for you to pick from. LinkedIn is where you keep things professional and straightforward.
5- Skip to the point
People don't read. They skim, just like you did in this article; you skim to get to the point you need and then move on to the next. On social media, that's doubled, and it takes more than having a catchy caption to make people read or skim, so when in doubt, use fewer words and drive more meaning from your caption. 
6- Use keywords
This point is related to the fifth point as well. Do you know what people skim for? Keywords, they search to find keywords driving key information in a key sentence. And that's what you should give them, keywords to understand the few lines of caption without reading the entire thing, learn to drive information from words, not sentences. 
7- Complement the post visuals
This goes without saying but for good measure we are including it. Write a caption that summarizes the post topic or gives it a headline or context within which the picture lies. 
8- Include a Call to Action
If you are posting aimlessly, you need to revise your social media strategy because you shouldn't be as you will be harming your brand image. 
Each post must contribute to your goal; whether it's to drive more comments and shares, drive traffic to your website, or even entertain, a CTA (call to action) helps you achieve your goal. 
One tip is to avoid the buy now or purchase now CTAs and stick with something that would get your audience to the next step, so learn more or know more will do for conversion-oriented posts. Comment below or let us know your thoughts or ask a question is also a strong CTA to use for engagement-oriented posts. 
9- Use hashtags
Hashtags still make a difference, but you don't need to litter your post with 30 hashtags; use 1-3 brand and topic-specific hashtags. 
10- Trial and error
What works for one brand might not work for another; that's why you should keep on trying different approaches and analyze them based on their goals from your analytics dashboard or the app analytics section. 
See what's working, continue with it, see what's not working, and try to fix it. 
We hope this guide gave you all the insights, tips, and tricks you need to get started with confidence. 
In Road9 Media, we have a successful track record of establishing brands' social media presence. If you face any issues or have any questions, why not book a consultation session with one of our Road9 Media marketing experts?